Wash and core 2 apples and cut into eight pieces.
Put them into a glass jar.
Pour in medium grade vodka (don't waste your money on high grade expensive vodka but I would be wary of the really cheap stuff!) to cover apples.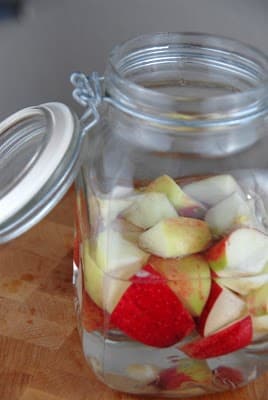 How long to let it 'soak': I read that the vodka will have picked up the flavors within a few days. I put mine together before the holidays and frankly forgot about it so it infused for two weeks. It has a delicate flavor of apple and is the most gorgeous color amber. I do not think it can soak 'too long'. You will note the apples begin to oxidize (turn brown) which is due to exposure to the air in the jar. When you are happy with the infusion, strain the vodka into a fresh jar and discard the apples.